#limeprovens
The science behind Limenet
Limenet's vision is that, for several factors that we will go into in this section, calcium bicarbonates are one of the most effective solutions to store CO₂, even for a very long time perspective.
| | Bicarbonates | Rocks | Trees |
| --- | --- | --- | --- |
| | | | |
| | | | Vulnerable to climate change |
| | | | |
| | | | |
| | | Geological feasibility studies | |
| | | | |
* High scalability thanks to the high presence of sea and calcium carbonate
** Bicarbonate production rate in the Limenet process for storing CO₂ from calcination and external sources
Calcium bicarbonates are a natural ionic compound, already present in the seas, which naturally balance the marine pH. These are in equilibrium at pH 8.2. Currently, due to the increase in CO₂ in the atmosphere, CO₂ has entered the sea by lowering the pH.
This has caused a pH reduction never seen before.
Ocean pH has decreased by 0.1 pH unit since the pre-industrial period, a shift that is unprecedented in the last 65 Ma (high confidence) or even 300 Ma of Earth's history (medium confidence).
Source: IPCC SR 1.5°C, 3.3.10
According to the IPCC, if we don't act now, the pH could drop again and cause massive damage to marine biota.
Le foto mostrano che il guscio di uno pteropode si dissolve in 45 giorni se posto in acqua di mare con livelli di pH e carbonati previsti per l'anno 2100 SSP3-7.0.
Source: NOAA
The storage of CO₂ in calcium bicarbonates is a method to remove CO₂ permanently and a valuable system to combat ocean acidification.
In fact, in the past, this method has been used, on a smaller scale, to combat acidification of lakes.
An example that can be cited regarding the use of carbonate substances to combat the acidity of water is the experiment conducted in Lake Orta. Here, between 1989 and 1991, acidification was reduced and remedied thanks to calcium carbonate's introduction, thus producing calcium bicarbonate (Calderoni et al).
The pH of the lake was "restored" in two years of adding calcium carbonate that melting in water turned into calcium bicarbonate. 
The boat Sant'Angelo during the spreading operations in Lake Orta (1990)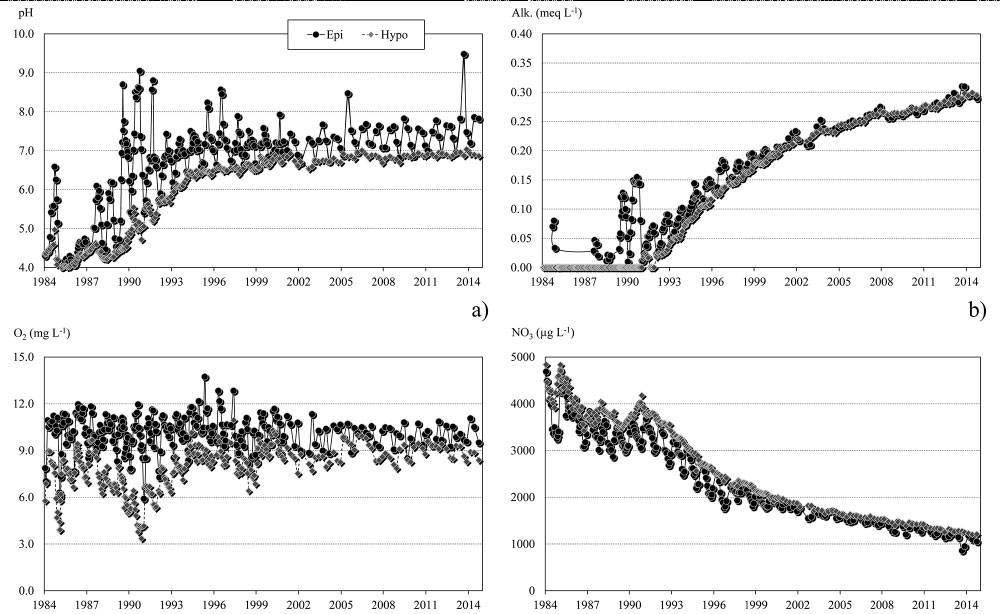 Trend of the monthly (1990-2000) and quarterly (since 2001) values of pH (a), alkalinity (b), dissolved oxygen (c) and nitrate (d) in the epilimnion and hypolimnion of Lake Orta.
This is visible from the alkalinity graph that has increased over time, thus testifying to the transformation of carbonates into calcium bicarbonates.
According to exactly the same principle, Limenet intends to introduce calcium bicarbonates directly into the sea water in order to combat ocean acidification.
The similarities and differences between the Liming made in Lake Orta and Limenet are as follows:
Buffering acidification with calcium bicarbonates. 
| | pH insertion Bicarbonates | | Bicarbonate formation control | | | | CO₂ absorption from the atmosphere |
| --- | --- | --- | --- | --- | --- | --- | --- |
| Liming | | | | | | | |
| Limenet | 8.2 in controlled and monitored mode | In the Limenet reactor before injection | | | | | |